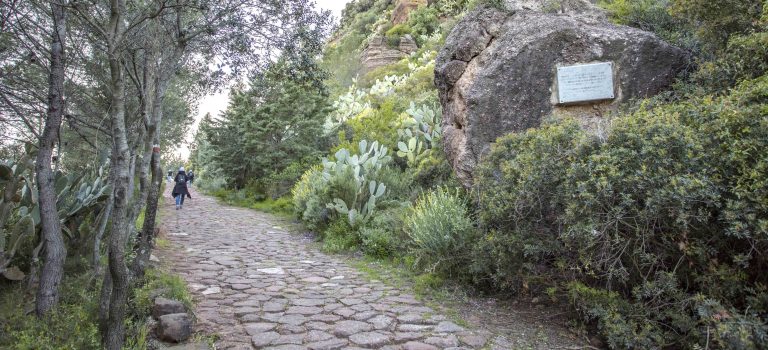 ON FOOT
Here are Mont-roig Miami's best walking trails of. Are you ready?
The best way to enjoy Mont-roig Miami's Mediterranean scenery is through hiking, step by step. We have devised several routes that run both along the coast, inland and in the mountains. You will learn about our municipal district's different landscapes.

JOAN MIRÓ, INSPIRED BY MONT-ROIG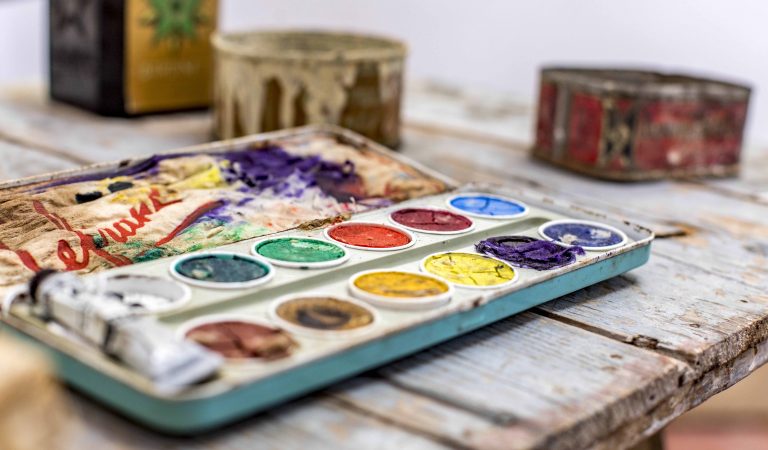 From the Mare de Déu de la Roca hermitage, we will walk down the old Hermitage road towards the village of Mont-roig del Camp.
During the excursion we will walk through the scenes of some of Miró's works, and also walk by the Mas Miró. The relationship between Mont-roig and the painter Joan Miró began in 1911. After that first contact, he would spend long seasons in his house, now called Mas Miró, year after year.
After that first contact Miró watched all the nature that appeared around him, admired the peasants' work, who farmed the land with geometric perfection, he absorbed all the radiating essence of this land between sea and mountain. And all this energy shaped his work.
The works that he painted in Mont-roig are numerous, and all of them highlight the harmony between nature and farm works, it must be said that Mont-roig leads Miró's entire work, "I'm much happier wearing a sweater and drinking out of a "porró" among Mont-roig farmers than in Paris. All my work is conceived in Mont-roig", said the painter.
Distance: 7 km | Length time: 3 h | Total slopes: – 85 m | Difficulty: easy | Download: Track
LOCAL CROPS; OLIVES, CAROBS...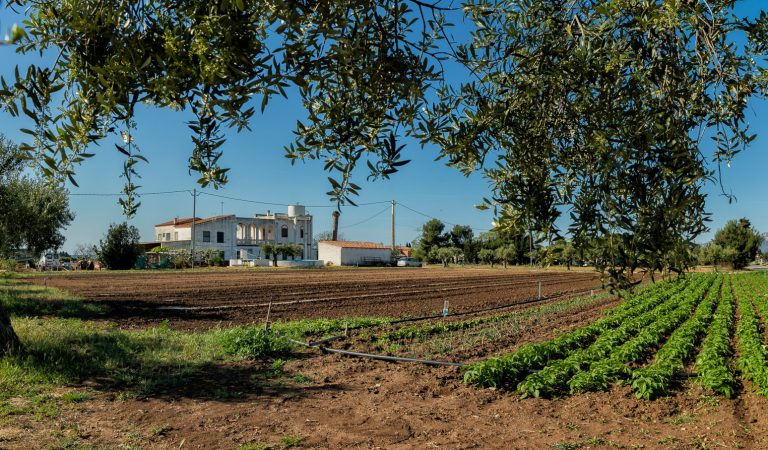 Mont-roig, located between the sea and the mountains, has been able to find in this flat land the ideal place to cultivate all the varieties of Mediterranean crop trees: olive, almond, hazelnut, carob, apart from the vineyards, it also has a large irrigation area where all types of vegetables are grown: artichokes, lettuce, onions, tomatoes.
The proposed excursion goes through many of these changing crops during each time of the year, giving a landscape of contrasting colours. The ochre of hazelnut leaves in the autumn, the pink of the almond flowers in February, the explosion of colours and shades in the spring and summer.
Today, Mont-roig's most important crop is the olive, marketed under the Oli de Siurana Designation of Origin. It has exceptional qualities thanks to Mont-roig's climate.
Mont-roig's centenary olive trees are a visual delight for the walker. Their bark and their twisted branches intersect to give strength to the fruit that will ripen in the tree until October, time to harvest and extract the precious golden liquid that will captivate all the palates.
As incredible as it may seem, thanks to the abundance of water from sources and mines, rice farming became reality in the town, being Catalonia's only place where it was grown at the beginning of the 19th century.
Distance: 12 km | Length time: 4 h | Total slopes: + 90 m | Difficulty: easy | Download: Track
MARE DE DÉU DE LA ROCA, SEAMEN'S LIGHTHOUSE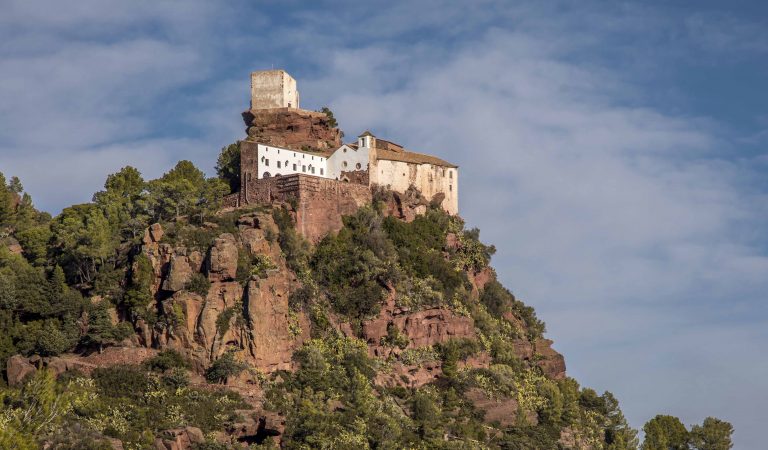 From Mont-roig del Camp, we will take the old Camí de l'Ermita, approaching the L'Areny mountain. Before, we will pass by Pedra dels Àngels, a rock used to enchant children by making them believe that they can hear angels singing at this spot.
We will arrive at the junction of the Carlins road, heading to Vilanova d'Escornalbou. We have two route options, both of which take you to Escales del Diable (devil's stairs), which allow you to reach the top of L'Areny, enjoying splendid views and the whimsical forms of the rock.
The hermitage of Mare de Déu de la Roca and that of San Ramon are located on a rocky promontory of 292 meters above sea level. Their location makes them an exceptional viewpoint of Costa Dorada. It is precisely this red mountain that gives the name to the town of Mont-roig. The Sant Ramon hermitage, a square cube located at the top of the peak and with white walls, stands out on the red rock and under the blue sky, serving nowadays to guide sailors and make them arrive to good port.
Following the "Moorish king's slide", we will walk down the beautiful cobbled road that makes some turns to rediscover the old road to Mont-roig.
Distance: 5 km / 7 km | Length time: 1 h 30 m. / 2 h | Total slopes: + 150 m / + 230 m | Difficulty: easy / medium | Download: Short route track / Long route track
MIAMI PLATJA WITH YOUR FAMILY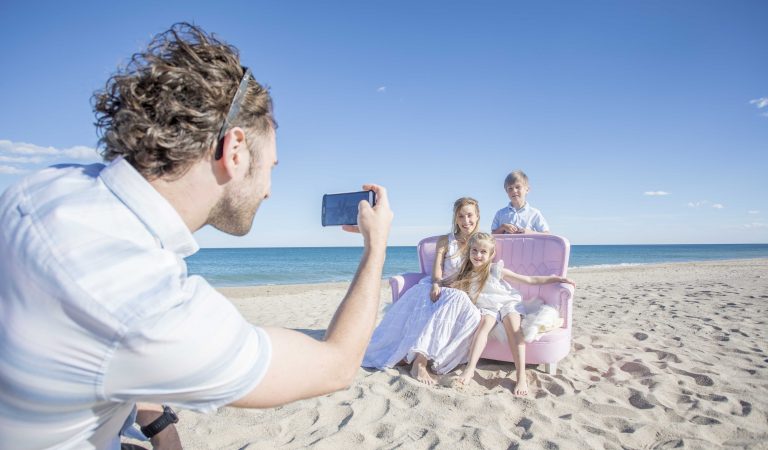 We suggest two small, 6 and 5 km long, itineraries with very low difficulty, to get to know the heart of Miami Platja and its coastal façade, as well as L'Estany Gelat, a small wetland area of great ecological interest. We' like to highlight the presence of the Iberian killifish, a freshwater fish in danger of extinction that tolerates a wide range of salinity and temperature.
The core of Miami Platja is made up mainly of tourist homes, which enjoy proximity to the sea and a long coastline with great diversity of coves. The main beach is that of Cristall, located in the most southern part, while the northernmost coast is formed by many coves, a coastline with a good quality of the waters and where you can often see the blue flag waving.
Distance: 5 km / 6 km | Length time: 1 h 30 m. / 1 h 40 m. | Total slopes: + 12 m / + 35 m | Difficulty: easy / easy | Download: Short route track / Long route track
THE SEA PIRATES AND LEGENDS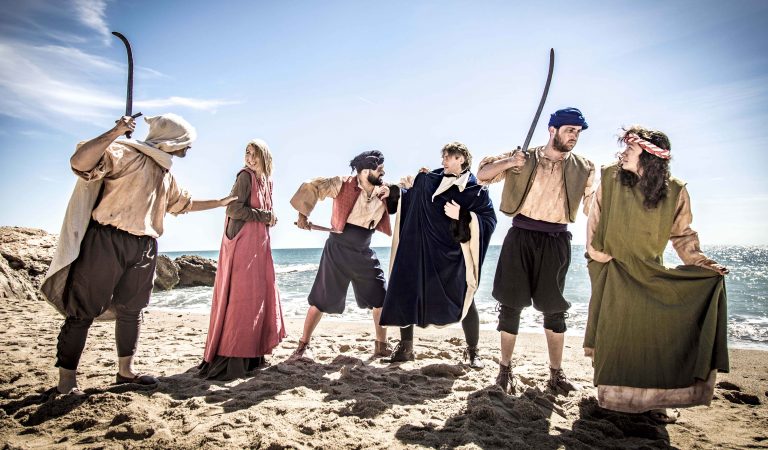 In the time when seas and oceans were controlled by pirates, the Mediterranean Sea was no exception, and neither was the coast of Mont-roig. It is known that in 1558, 300 corsairs landed on the coast, they went to Mont-roig and took up to 18 captives. From these incursions, different stories and legends have been derived, one of the best known takes place in Miramar: the famous pirate Arudj Barbarroja's granddaughter, called the Red Moon, decided to attack the old town of Miramar.
The beach next to the La Pixerota tip, also called Carabineer's House, this name is due to an old house built in 1860s as a vantage point for these coastal guards. At this point there are also some remains of an old Spanish Civil War bunker dating from 1936.
The ruins of Miramar tell us about distant times, that perhaps go back to the Romans, and from which only a few remains have survived on top of the hill, just off the beach. The place, also known as Guardamar, appears in the documentation in the 14th century. It was an important fortified enclave during the 15th century to store the wheat that was shipped here down the Ebro River.
Distance: 11 km | Length time: 3 h | Total slopes: + 15 m | Difficulty: easy | Download: Track
MONT-ROIG STONE BY STONE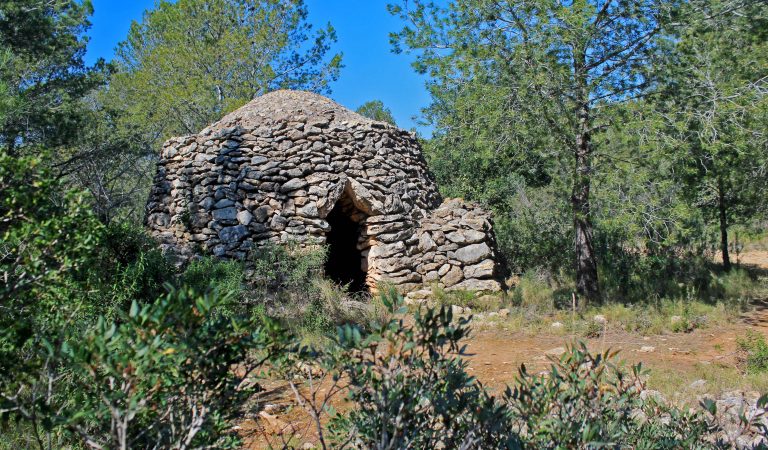 During the excursion we will follow some of the area's rural roads looking for some small gems of rural architecture, dry stone huts. In Mont-roig there are more than 100 of these huts that have the peculiarity of being built only using stone, without any mortar, kind of millenary art.
Most huts were built by farmers themselves in each parcel and the main reason was to take shelter, protect themselves from rain, from cold and from heat at summer peak hours. And it also represented a method for cleaning crop fields. Not only was it necessary to shelter people, but also the mule, since it could not become ill for the good of the family's economy.
But the huts are not the only dry stone element of this route: the Casalot road stands out due to its imposing dry stone margins, which prevented the cattle from stepping on crops and allowed the passage of wagons. If we look at it closely, we will see the trail on the parent rock, two still visible grooves on the rock carved by centuries of usage.
Distance: 12 km | Length time: 3 h 45 m | Total slopes: + 90 m | Difficulty: easy | Download: Track
MUNTANYA BLANCA, MONT-ROIG'S VIEWPOINT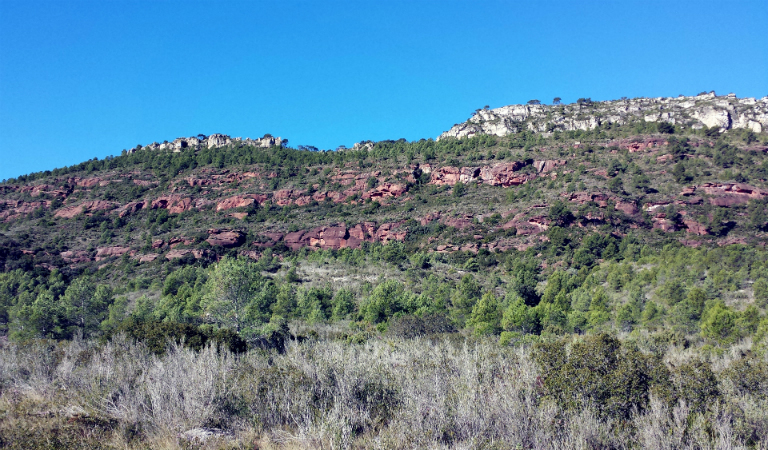 Muntanya Blanca is Mont-roig's highest point, it is a mountain range located as a buttress of its big sisters, Serra de Llaberia and Mola de Colldejou. At its highest point, Molló dels Quatre Termes, the municipal areas of Pratdip, Colldejou, Vilanova d'Escornalbou and Mont-roig come together, and it offers privileged views over Mont-roig, the mountain of L'Areny crowned by the Mare de Déu de la Roca hermitage and Costa Dorada. From this peak, you also see the peaks of La Mola de Colldejou (922 m) and Miranda de Llaberia (918 m) where one of Catalonia's 4 weather radars is located.
Muntanya Blanca owes its name to calcareous rock, where the typical phenomenon of karstification occurs, that is, rock dilution, which causes the appearance of numerous caves and crevasses, such as L'Avenc del Pla, near Molló dels Quatre Termes, about 31 metres deep.
Distance: 17 km | Length time: 5 h | Total slopes: + 500 m | Difficulty: medium | Download: Track