Description
PARTICIPATING RESTAURANT - THE CUISINE OF THE GENIUSES 
NAME OF DISH: KODAI
Miró's attraction to Japanese art is evident from the beginning and will continue throughout his life, although it was not until 1966 that he travelled to Japan for the first time for a retrospective of his work. In the 1960s he began to focus on the theme of emptiness, and the colour black became increasingly prominent. For Miró, the gesture of painting is very important, as is Japanese calligraphy.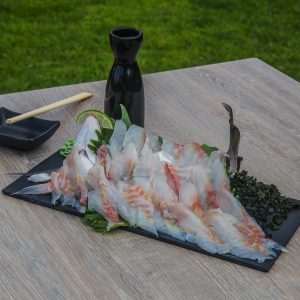 We link this traditional and original Japanese dish to Miró's "Cheveu poursuivi par deux planetes" (1968). An explosion of orange on a bright green and, on an also orange sun, two small black spots and a black stripe.
We present the Japanese cuisine style dish: a filleted gilthead on white seaweed background and shiso leaves on its bone, head and tail preserved.